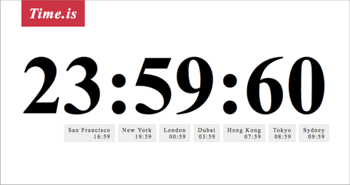 Voor iedereen die graag alle tijden omrekent naar het aantal seconden sinds 1970 of tijdsverschillen bepaalt via de seconden in plaats van datetime-functies te gebruiken: vandaag gaat je berekening mis, omdat de laatste minuut voor 12 uur vannacht niet 60 maar 61 seconden gaat tellen.
De laatste minuut van vandaag zal 61 seconden tellen. De zogenaamde 'schrikkelseconde' wordt door atoomklokken aan de officiële tijd toegevoegd.
In de praktijk ziet dat er op een digitale klok zo uit: normaal verandert de tijd van 23:59:59 naar 00:00:00 uur. Vannacht zal het tijdstip 01:59:59 op een digitale atoomklok gevolgd worden door het tijdstip 01:59:60, waarna het op 02:00:00 uur springt.
De schrikkelseconde werkt hetzelfde als het schrikkeljaar. De aarde draait soms iets sneller en soms iets langzamer om haar as. Dit kan bijvoorbeeld komen door verplaatsingen van massa of het smelten van poolkappen. Om die reden komt het er in de praktijk op neer dat de klok altijd ietsje voor loopt. Om dat gelijk te trekken, werd in 1972 de schrikkelseconde ingevoerd.
Sinds 1972 zijn er in totaal 26 schrikkelsconden toegevoegd aan de tijd. Dit is natuurlijk heel weinig, maar als we de schrikkelseconde niet zouden toevoegen zou er volgens wetenschappers over zeker 10.000 verschuiving in de seizoenen plaatsvinden.