Privacy
15.08.2012
Aan privacy is ons veel gelegen!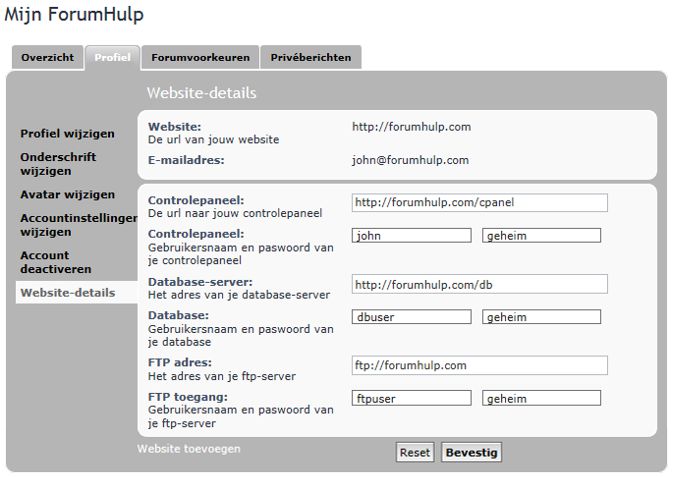 Onze klanten hebben natuurlijk recht op privacy en een van die dingen zijn de inlogcodes voor hun websites. Maar om goed samen te kunnen werken hebben we die gegevens echter wel nodig.

Daarom hebben we onze eigen module ontwikkeld met de best mogelijke veiligheid die phpBB ons biedt. Binnen je eigen gebruikerspaneel is er daarvoor plaats middels de module profiel -> site-details. Daar kan je als klant alle informatie kwijt betreffende jouw website en die gegevens blijven daar ook voor jouw te beheren. Alleen jij en de medewerkers van ForumHulp.com hebben daar toegang tot.

Om nog een stap verder te gaan hebben we ingebouwd dat er nog een keer gevraagd wordt naar je paswoord alvorens je toegang krijgt tot site-details. Na de extra paswoordcontrole kun je dan site-details bekijken, bewerken en opslaan. Zo voorkomen wij dat op een PC met automatische inlog je gegevens zichtbaar worden voor onbevoegden. Natuurlijk blijf je alle controle houden over je eigen site-details waarbij alle paswoorden versleuteld opgeslagen worden in onze database. Veiligheid op zijn best dus.

Heb je meerdere websites met verschillende inlogcodes dan maak je gewoon een tweede of derde site aan. Geen probleem bij ons.

Ben je onderweg en heb je plots je gegevens nodig, ook dan is de module site-details erg handig.
Zolang jij zorgt dat de gegevens up to date blijven heb je ze altijd bij de hand.
Back to overview