What do we do
Onze werkwijze: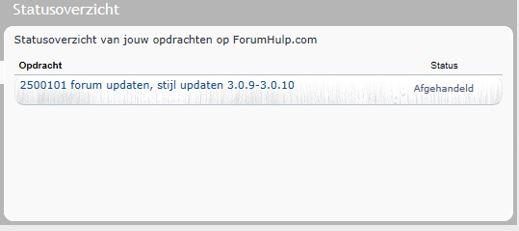 Van iedere klus maken we een job aan op onze website, die je kan volgen in je gebruikerspaneel overzicht -> Statusoverzicht. Iedere job heeft een eigen id nummer. Meer info verkrijg je door op de job te klikken.

Op elke status kan je reageren op vragen, gesteld door onze medewerkers of zelf vragen stellen. Die worden dan opgesomd in je statusoverzicht. Zo kan je de voortgang volgen van je opdracht. Natuurlijk krijg je van elk bericht een PB in je mailbox en worden de medewerkers betrokken bij de opdracht ook gewaarschuwd als jij een bericht stuurt.

Omdat wij niet in jouw gebruikerspaneel kunnen kijken hebben we onze eigen module Jobs waarin we met jouw kunnen communiceren en de voortgang kunnen bewaken. Onze medewerkers communiceren dus via het ACP met jou over jouw opdracht en dat heeft als voordeel dat alle medewerkers ook in kunnen zien wat er al allenaal gebeurt is en wat er is afgesproken. Daarnaast hebben we dan nog onze geintegreerde testmodule waarin we bijhouden wat we al allemaal getest hebben en of de test succesvol was.

Als de opdracht de status afgehandeld krijgt worden alles gesloten zodat het niet meer veranderd kan worden. Natuurlijk blijft wel alles zichtbaar zodat we een mooi archief kunnen opbouwen en jij altijd terug kan kijken.