Survey
08.01.2013
Altijd al een online survey willen houden op je forum?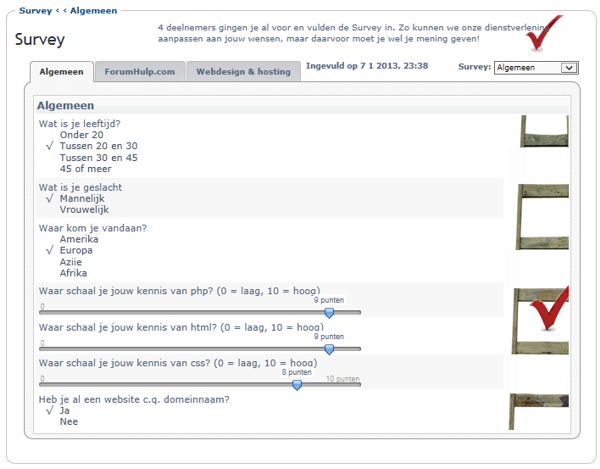 Opinieonderzoeken zijn gewild, en zeker door de beheerders om er achter te komen wat de bezoekers vinden van je website of product.

Wel hier is een Survey, helemaal geschikt voor phpBB3 en met professionele eigenschappen.

Stel je vraag en geef er eigenschappen aan. Standaard staan de antwoorden al klaar op Ja, nee of niet van toepassing maar je kan ook je eigen antwoorden invullen of een open vraag stellen. Mooier nog, je kan ook om een waardeoordeel vragen die je bezoeker kan invullen middels een slider.


De Survey kan je beheren in je beheerderspaneel waar je tevens ook een online rapport kan genereren over het onderzoek. Meerdere Survey's zijn mogelijk waar de bezoeker uit kan kiezen. Eenmaal ingevuld zal het script de ingevulde resultaten van het onderzoek aan de bezoeker laten zien. Niet alle vragen ingevuld? Geen probleem het script onthoud dan alle vragen en vult die voor de bezoeker opnieuw in.
Versie: 1.0.2
phpBB versie: 3.0.9 en hoger
Installeer tijd: Ongeveer 5 minuten
Moeilijkheidgraad: Gemakkelijk
Laatst geupdate: Dinsdag 8 Januari 2013
Discussieonderwerp: Bekijk
Bestellen: Hier
Live demo: Hier
Back to overview