Online reakties
12.10.2013
Online op de hoogte van nieuwe reakties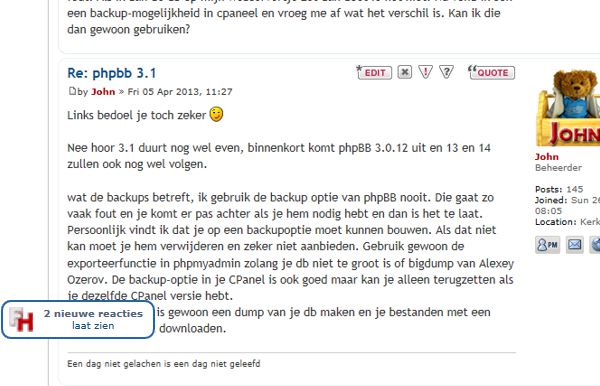 Online op de hoogte blijven van nieuwe reacties in je topic dat je leest.
Dat kan heel makkelijk met onze Ajax new reactions module. Tijdens het lezen van je topic wordt er periodiek gecontroleerd of er nieuwe reacties zijn gepost. Middels de link in de popup kan je meteen naar de eerste nieuwe reaktie springen in je topic.
Geen pagina meer verversen of de pagina nieuwe berichten raadplegen, nee je wordt on the fly op de hoogte gehouden van nieuwe berichten in je topic.
Versie: 1.0.0
phpBB versie: 3.0.9 en hoger
Installeer tijd: Ongeveer 5 minuten
Moeilijkheidgraad: Gemakkelijk
Laatst geupdate: Zaterdag 12 Oktober 2013
Discussieonderwerp: Bekijk
Bestellen: Hier
Back to overview