Vissen & plantendb
16.12.2013
Vissen & plantendatabase al geschikt voor phpBB 3.1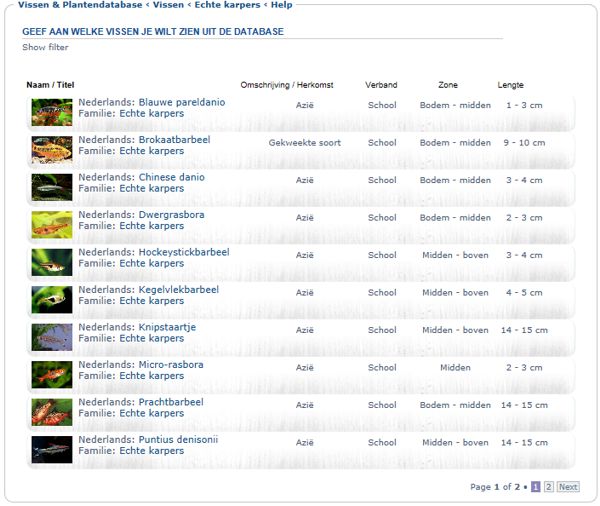 Onze vissen & planten database is nu ook al geschikt voor de op stapel staande phpBB 3.1 versie. Speciaal voor aquariumliefhebbers en sportvissers ontwikkeld en nu met de nieuwste snufjes van phpBB 3.1. Natuurlijk ook nog te verkrijgen voor de phpBB 3.0 lijn.

De kb is makkelijk aan te passen en kan door de leden aangevuld worden. Moderators kunnen artikelen goed- of afkeuren en van ieder gewijzigd record wordt een back-up bijgehouden. Beheerders kunnen de categorieën en grenzen opgeven.

De kb is onderverdeeld in vissen, planten, overige bewoners en artikelen. Een record is pas zichtbaar na goedkeuring. Tevens is er een reaktiesysteem toegevoegd voor elk record. Afijn, teveel om op te noemen, speel zelf met de demo of surf naar Sportvistotaal of Aquafora.
Versie: 1.1.0
phpBB versie: 3.1.0 en hoger
Installeer tijd: Ongeveer 5 minuten
Moeilijkheidgraad: Gemakkelijk
Laatst geupdate: Maandag 16 Decemberr 2013
Discussieonderwerp: Bekijk
Bestellen: Hier
Live demo: Hier
Back to overview