Tabbed Categories
16.07.2012
Onze eerste mod: Tabbed Categories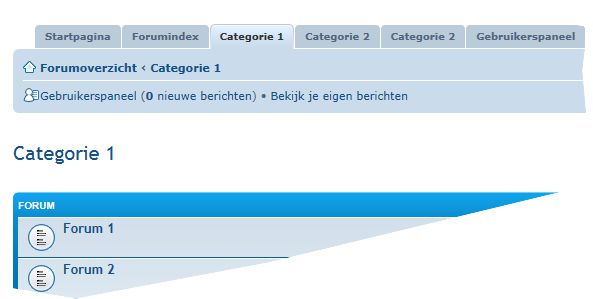 Tabbed Categories is een mod die hoofdcategorieën in tabs boven de navigatiebalk zet zodat je snel van categorie naar categorie kan springen en daarmee de forumindex pagina aanzienlijk kan verkorten zodat scrollen niet meer nodig hoeft te zijn.

Daarnaast is de tab van de hoofdcategorie geselecteerd waar je in het surfen bent. Als extra is de mod voorzien van een welkomstpagina die je in je ACP kunt bewerken. De welkomstpagina is altijd bereikbaar door op de startpagina te klikken en is de eerste pagina die jouw bezoekers krijgen te zien.

De mod is gemakkelijk uit te breiden met andere links naar je forum of pagina's binnen je website.

Heeft u vragen, opmerkingen of aanvullingen, plaats deze dan gerust op het forum.
Versie: 1.0.5
phpBB versie: 3.0.7 en hoger
Installeer tijd: Ongeveer 5 minuten
Moeilijkheidgraad: Gemakkelijk
Laatst geupdate: Donderdag 20 december 2012
Discussieonderwerp: Bekijk
Bestellen: Hier
Live demo: AquaforA
Back to overview